Micamada Hotel - Lake Caldonazzo - Valsugana - Trentino
Holiday in a 3-star hotel at Lake Caldonazzo - Dolomites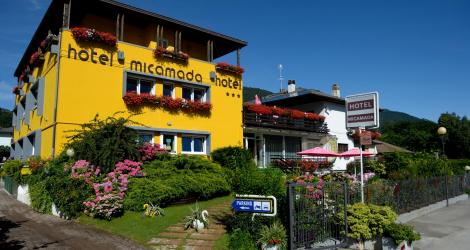 Welcome to the Micamada Hotel at Lake Caldonazzo, Dolomites, Trentino.
Welcome to your comfortable holidays in Calceranica al Lago, an enchanting village at 500 m above sea level between the lake and the mountains!
Lake Caldonazzo is only two minutes' walk away from our hotel. Our hotel Micamada 3-star is surrounded by beautiful nature and renowned for comfortable and enjoyable holidays.
Be enchanted and enjoy yourself…
Our hotel offers a cosy atmosphere, which can also be felt in the 22 comfort rooms.
Here you will enjoy your stay from the very first minute.
In our 22 comfortably furnished rooms you'll feel right at home.
Relax in our garden and at the lake: enjoy the sun and peace on our lawn area, or do the same right at the lake, which is just two minutes' walk away. 
Loungers are available.
Whether you like hiking, cycling, motorbike excursions, water sports, horseback riding or trekking, we are always at your disposal and we will be happy to provide you tips and maps.
Bicycle cellar & parking: Cars, motorbikes, trailers, etc. can be parked free of charge on our parking lot. The gate is locked overnight. For your bicicle (and the hotel's own bikes), you can use the bicycle cellar free of charge. You can also use our garage for motorbikes, for a small extra.
If you want to stay connected, we offer WiFi connection in the entire Hotel, and an Internet point in the bar area.
Holiday at Lake Caldonazzo - Valsugana - Trentino
After Lake Garda, Lake Caldonazzo is the largest and most famous lake in the Trentino region. During the summer, it warms up to a temperature of 27° and offers lots of bathing fun and water sports possibilities.
Swimming, sun bathing, surfing, sailing, water skiing, canoeing and rowing – this lake is an exceptional meeting place for anyone who loves water sports!
Book your holiday at Lake Caldonazzo - Valsugana - Trentino now!